Zionists are determined to Destroy and Silence Dr. David Duke     
Don't let them win!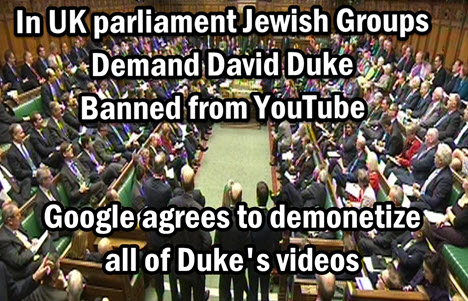 In recent days, the Zionist/Jewish Global, Media and Political Establishment has launched a worldwide war to silence and shut down the vital work of Dr. David Duke. The most read and quoted anti-Zionist campaigner in the world.
In the UK Parliament, Zionist collaborators in an effort to blackmail Google YouTube demanded that they demonetize Dr. Duke's popular videos, or face economic boycott and ruin — they capitulated toe the demands even though my videos are not extreme or hateful, but simply expose Zionist racism, extremism and war.
No one is accomplishing more in waking up the European and American people—and indeed all the people of the world— to the threat of Zionist globalism — than Dr. David Duke.
His videos, radio program and writings are now reaching hundreds of millions of people all over the globe, because the principles he espouses are not only vital to the heritage, independence and survival of Europeans and Americans, but stopping the Zionist wars, financial robbery, and media lies and violation of the human values and rights is critical to Europeans and all people on the planet.
If you are educated and enlightened Dr. Dukes writings, his radio show, his amazing videos, his website, then remember that it is only because of the generosity of people like yourself, that his work can continue and to grow.
The easiest and most effective way to support Dr. Duke is with a generous personal gift. There are no taxes on personal gifts and he can utilize every penny in his work for our ideals. You should also consider including Dr. David Duke in your will, trust or insurance provisions and by doing so you can leave a legacy for our cause. 
Dr. David Duke – Box 188 Mandeville, LA 70471
David Duke stands up and speaks for you. Your kind and generous gift makes it possible for him to speak to the entire world!
Gift Information
Amounts from the EU are in Euros and from America and outside the EU in Dollars
Your credit details are secured through STAT OF OF ART PGP encryption and are not kept on the server, for added protection.
NOTE FROM DAVID DUKE!
Dear Friends,
THIS PAGE IS A COMPLETELY SECURE SSL ENCRYPTED (HTTPS) WEBPAGE AND DONATION FORM WITH STATE OF THE ART SECURITY SITE & AND IN THREE DECADES OF UNBROKEN SECURITY, NOT A SINGLE PERSON HAS EVER BEEN COMPROMISED!
THANKS FOR YOUR SUPPORT!
RECENTLY UNDER MASSIVE GLOBAL JEWISH BLACKMAIL, YOUTUBE HAS DEMONETIZED MY VIDEOS AND OUTRIGHT BANNED ANY VIDEO BY ME ON ANY SUBJECT IN THE LEADING NATIONS OF THE EU!
THAT HAS SERIOUSLY HARMED OUR ABILITY TO FUND OUR WORK AND PAY OUR BILLS. 
BECAUSE OF THESE EFFORTS AGAINST US, FOR THE PAST FEW MONTHS WE HAVE NOT BEEN ABLE TO FUND OUR BILLS WITH THE CURRENT INCOME. 
THEY ARE DESTROYING US FINANCIALLY IN ORDER TO SILENCE OUR POWERFUL HISTORICAL AND POLITICAL TRUTHTELLING! 
NEVER HAVE YOUR CONTRIBUTIONS BEEN MORE NEEDED THAN RIGHT NOW!
PLEASE BE COMPLETE THE GIFT FORM TODAY AND BE GENEROUS!
WE NEED YOUR SUPPORT TO SURVIVE AND TO GROW!
THANK YOU!
DR.DAVID DUKE